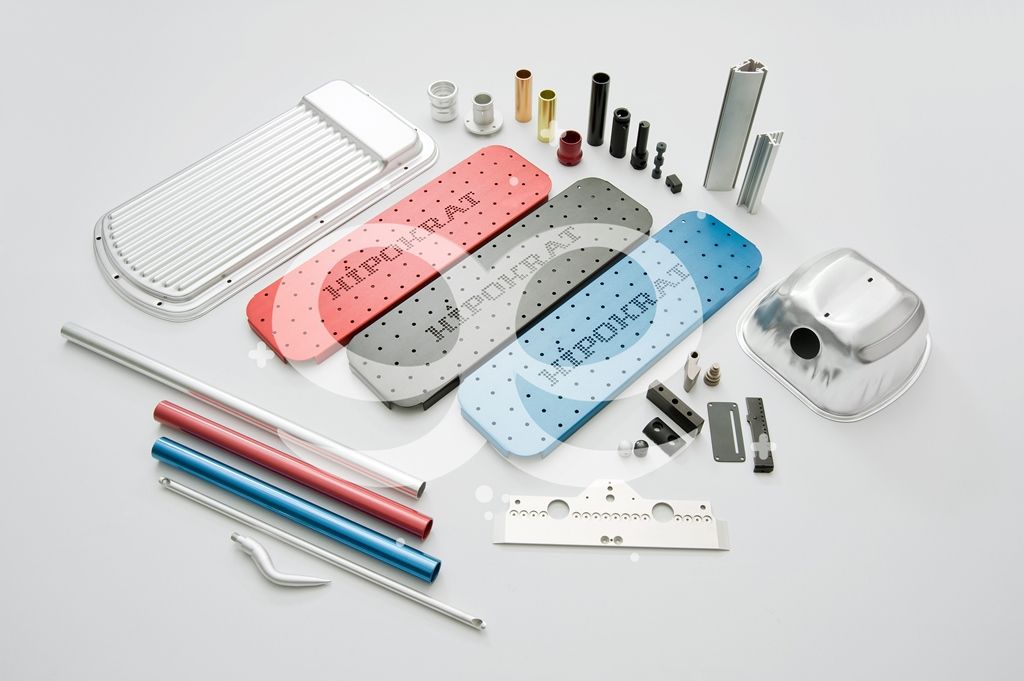 Anodizing
The colourless layers of anodic oxide formed in a process held in sulphuric acid baths, employing direct current under low temperatures are called "natural anodized layers".  It is possible to colourise these layers in chemical terms, using inorganic or organic compounds based paints.
Practices are generally for technical purposes. Very thick and hard anodic oxidation layers may be obtained depending on the material used and the intended area of use. Additionally, opaque and bright anodic oxidation coats can also be produced. 
As the anodic oxidation layer presents an extremely hard and thus highly anti-corrosive surface, it adds superior qualities to aluminium. Anodic oxidation coating provides high anti-corrosive properties to aluminium under a vast majority of conditions, as it is resilient against a variety of acids and other chemicals. The transparent structure of the anodised layer reveals the metallic appearance of aluminium, which fact makes it possible to apply a variety of mechanical or chemical processes on the surface of aluminium, to give it a bright or matte appearance .
Hard Anodizing
Hard anodizing procedures are carried out for industrial applications. It is preferred particularly in a variety of engineering applications, where extremely hard surfacing layers with good anti-friction properties are sought on aluminium materials. Hard anodized oxide layers can have a thickness in a range of 25 to 150 microns.
 

Alodine Chromating
The term defines a process of creating a film layer by chemical means, in order to facilitate for the strengthening the bond between the paint and the application surface, by amplifying the anti-corrosive resistance of aluminium and alloys. The production is carried out to yield colourless, brown or yellowish products.
Aluminium Surface Treatment
This is a process designed and developed especially for aluminium materials, to optimise the bonding of the next painting layers, which is free of CR+6. As an outcome of a huge knowledge accumulation, this product names a technology that passivises CR+3.
The aluminium surface treatment gives a shot appearance in light blue and transparent green colours with a thin CR+3 passivation film layer applied on material.

The process meets the requirements of RoHS and WEEE.
It is proposed for providing resistance in such accelerated corrosion tests as the salt spray test.
The aluminium surfaces are cleaned by pre-treatment, in other words, porosities are made to occur on them to prepare them for the upcoming surface treatment.
OUR SERVICES Our Service and Product Images